If you're anything like me, then you'll have had more than one all-day/ all-night gaming session surrounded by discarded junk food packaging and empty energy drink cans. It's these mammoth grinding sessions that are at the beating heart of our gaming lives. But the toll all that junk food can have on your body is not to be overlooked so easily. That's why, when we sat down to think about what kind of nutrition products we wanted to make for gamers, our meal replacement shakes were born.  
What Are Meal Replacement Shakes?
In case you haven't come across products like this before, a meal replacement shake is exactly what it says on the tin (or pouch, in this case). It's a shake you drink that's filled with all the nutrients you would need from a meal. In our case, let's see what this breaks down into: 
239 kcal

 

18g protein

 

5.3g fibre

 

27 vitamins and minerals

 
But the best part? It's fast and easy to make, without being super unhealthy. That makes it the perfect meal to grab when you're in the middle of climbing the ranks in Valorant, raiding in WoW, or trying to speed run the latest Pokémon game.  
Now, let's take a closer look at those vitamins and minerals we've packed our meal replacement shakes with. We've got zinc which contributes to normal cognitive function, vitamin A to help maintain normal vision (perfect when your eyes are glued to your screen for hours and hours) and vitamin C to help reduce tiredness and fatigue — so you can stay on top of your game.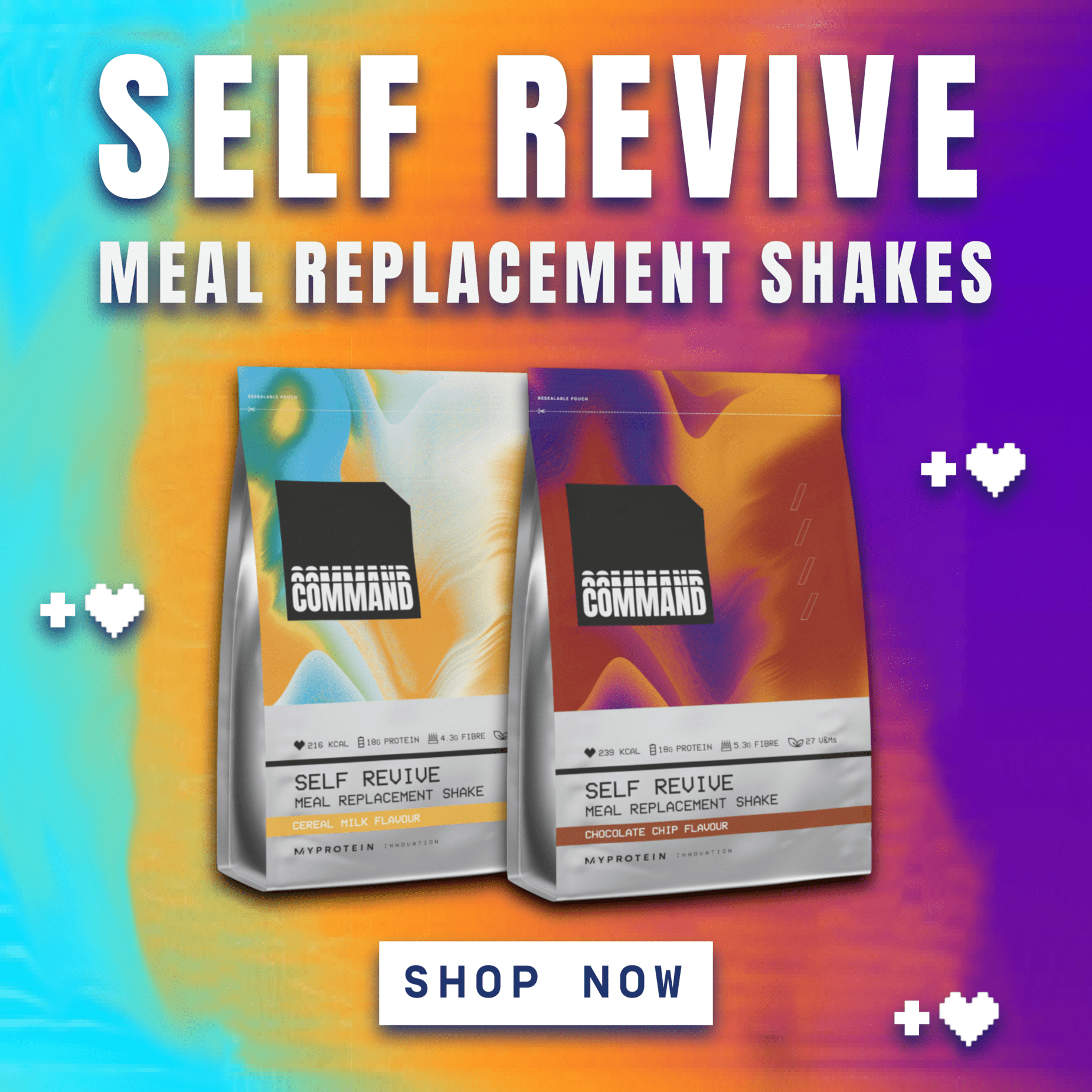 Why Meal Replacement Shakes?
Everyone here at Team Command is a gamer themselves, and we've all found ourselves lamenting over spending the whole weekend eating nothing but junk food (it's how everyone found out I eat Cheetos with chopsticks to keep my keyboard clean – pro tip). We knew there had to be a better way to keep the grind going without the constant snacking. That's when the idea of making a meal replacement shake came around. 
We wanted to give gamers the nutrition they needed without the need to leave the game to prepare a meal. And thus, Self Revive was born. We're launching with two delicious flavours – Chocolate Chip and Cereal Milk, both made to fuel your next gaming grind and keep you on top of your game.